The earbuds changing the way
you experience sound.
Introducing Galaxy Buds+.
Our first-ever wireless earbuds with 2-way speaker delivering
sound by AKG with rich treble and bass, an adaptive
3-mic system for crystal clear calls, and long-lasting battery
power — all for a premium listening experience.
Studio quality, outside the studio
AUDIO
Escape into your music
Rich, natural sound is now expanded by Galaxy Buds+ new, 2-way dynamic speaker system and boosted driver. The powerful bass and crisp high notes will have you moving to the beat wherever you go.
More mics, less noise
Speak without having
to shout
Enjoy crystal clear calls and unparalleled voice quality with 2 innovative outer mics that pick up your voice and preserve it against background noises.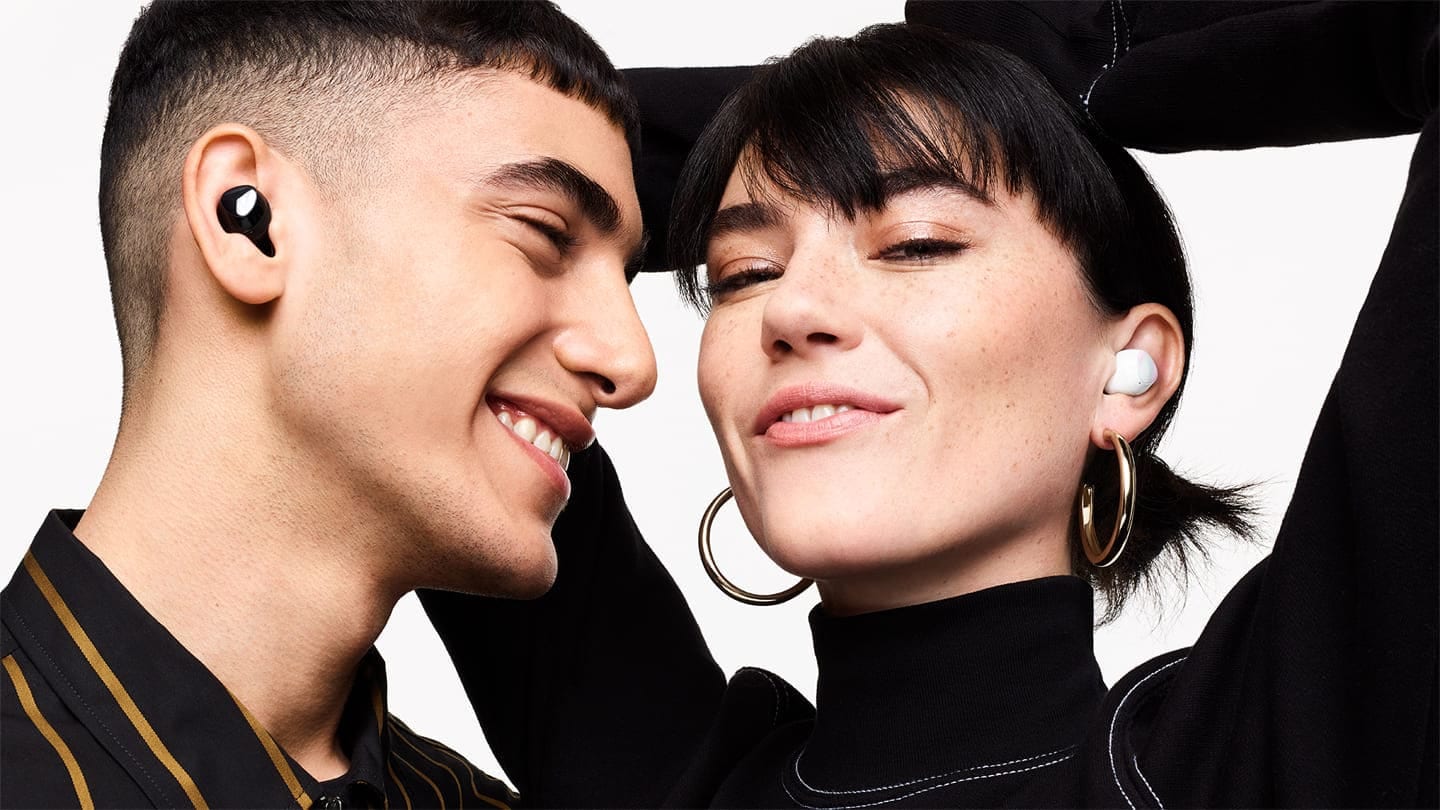 Adapts to noise,
so you don't have to
Galaxy Buds+ adaptive 3 microphone
system makes sure you're being heard over
distracting noises. The 2 outer mics work
together with the inner mic to block out
surrounding sounds while you're on a call.
Sound quality you can hear
Catch the details of your music and videos in the balanced and spacious audio crafted by AKG. The satisfying studio quality sound is pure and natural, enhancing listening to podcasts, audiobooks and phone calls.
BATTERY
Power that keeps
you grooving
Play music without worrying about battery life. Enjoy up to 11 hours of uninterrupted listening time on a single charge that extends to 22 total hours with the Galaxy Buds+ charging case. 1
Only buds

11hr

 

With charging case

22hr
Fast charging for short pauses
Charge

3mins

 Play time 1

Around

1hr
Wireless buds, wireless charging
Replenish your battery on any Qi compatible wireless charger or skip the charger and conveniently share power directly from your Galaxy phone. 2

Know when it's time to recharge
Use your smartphone to check how much battery life you've got left on each bud and charging case, so you know when to power up.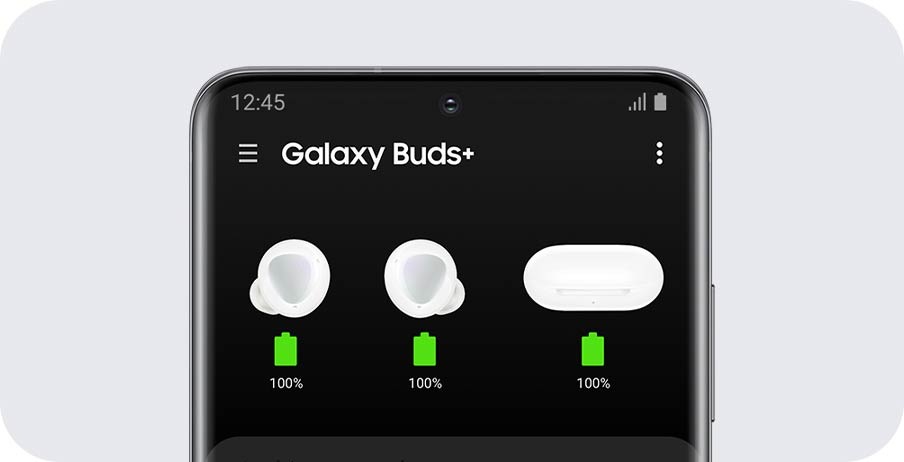 DESIGN
Turn heads with a hint of color
Galaxy Buds+ sleek, compact package comes in various colors with specially crafted ergonomic ear and wing tips that fit comfortably in your ear for long-lasting wear. Enjoy unhindered movement while your buds keep the music in your ears. 3
CONVENIENCE
Hear what you want
to hear

Adjust how much of the outside world you let in to stay aware and connected. Turn up Ambient sound volume when you need to engage your surroundings without having to take your earbuds out. 4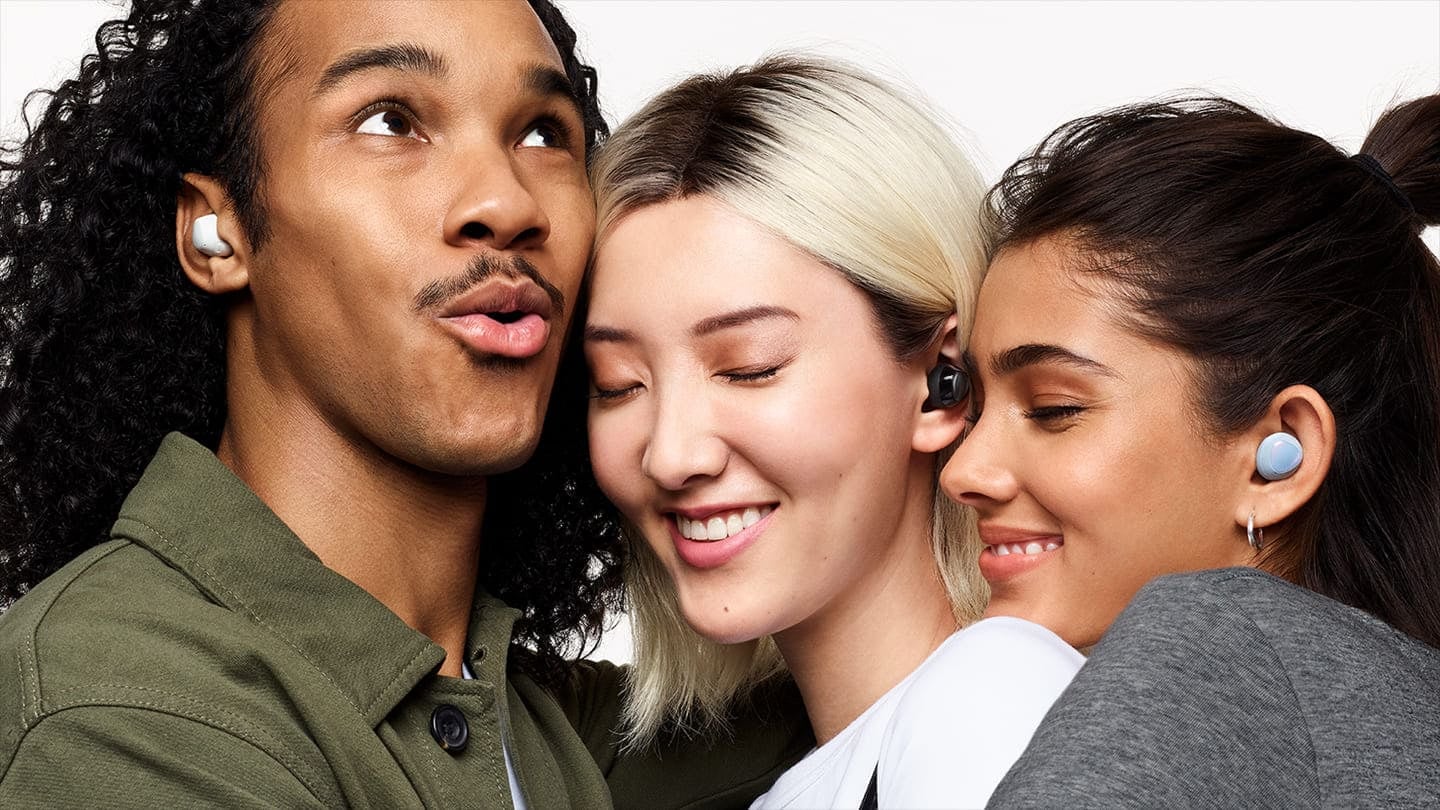 Just tap to control
Shift through your playlist, answer calls and adjust volume with simple taps on your earbuds. Customize your own tap commands for more control and freedom from your phone.
GALAXY ECOSYSTEM
One step to connect
Pair your Galaxy Buds+ in one seamless step to compatible devices on your Samsung Cloud account. No need to disconnect, Bluetooth connectivity shifts easily from your phone to your tablet or other Samsung devices.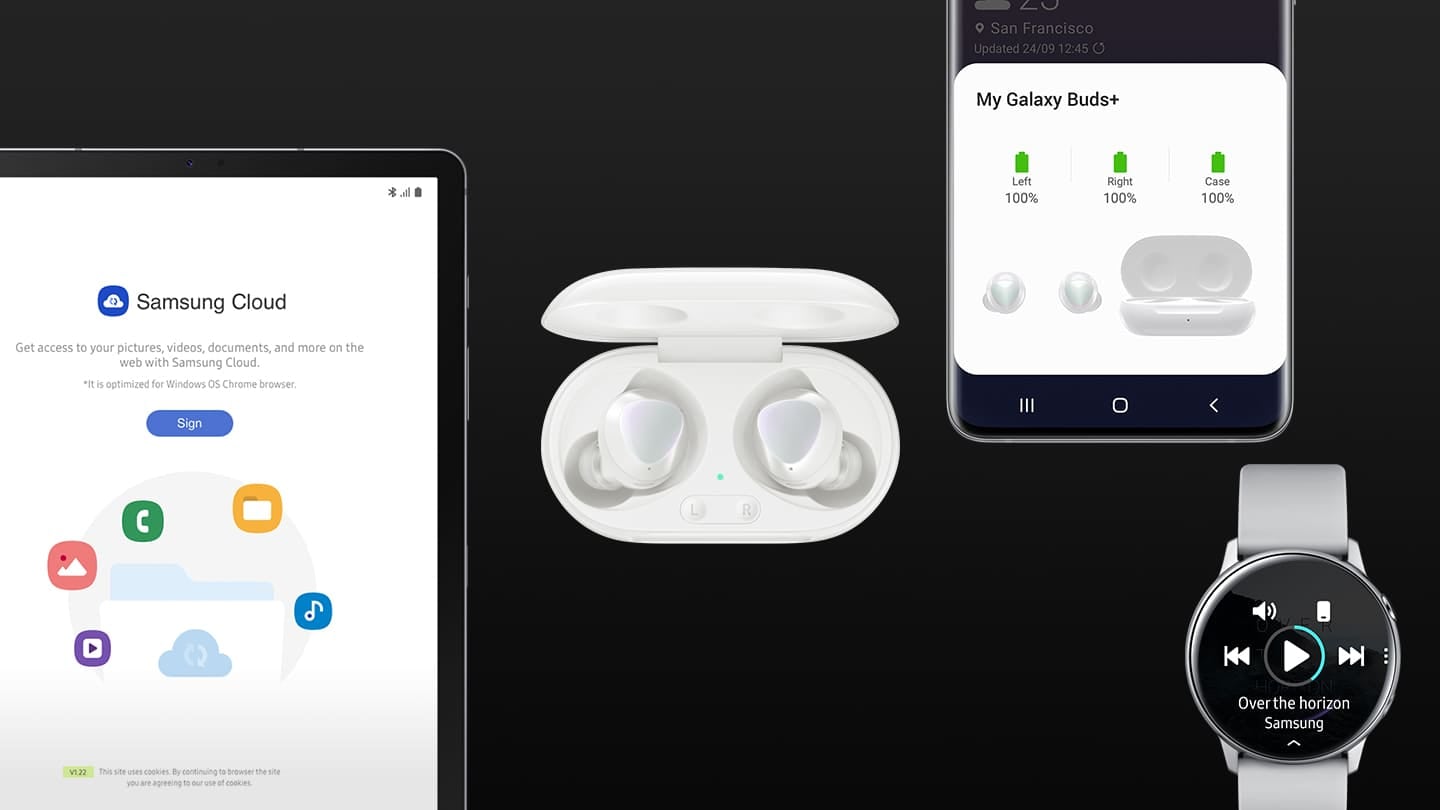 Pair with a PC for an easy way to work
Connect your Galaxy Buds+ to a Windows 10 PC and get work done at home. The buds only need to be in pairing mode near a PC to be recognized and paired via Swift Pair. So it's simple and easy to work together even while staying apart. 6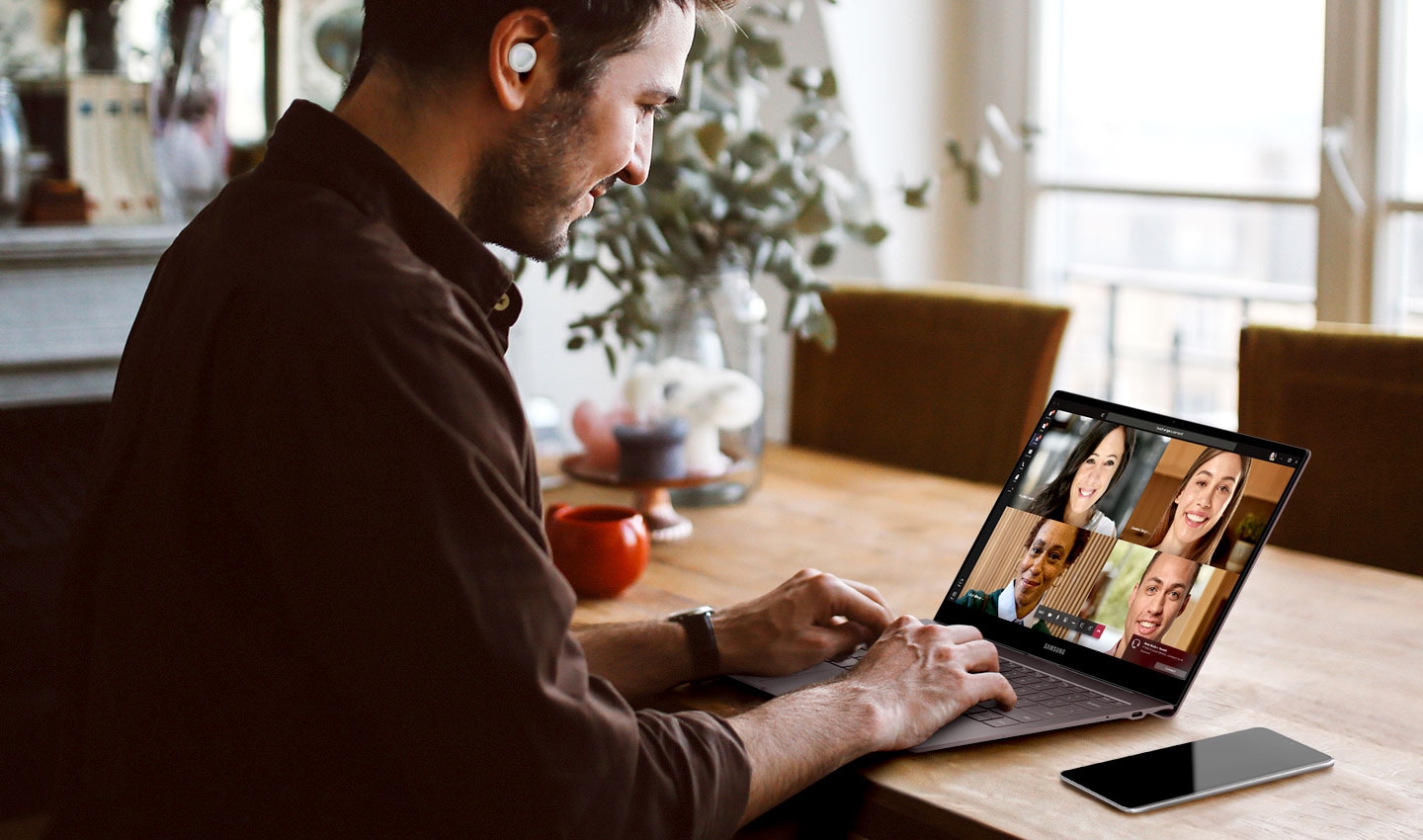 Android & iOS compatible
Pair with smart devices via Bluetooth. Use the Galaxy Wearable app on Android and Galaxy Buds+ app on iOS to make the most of your earbuds. 7
I just bought this Samsung Galaxy Buds +, and the sound quality and enhancement the sound system tuned by AKG is very superior and the deep bass
The battery is long-lasting battery power with Fast charging is a very short time
As like just charge 3 min and playtime is more like 1 hour something
Like a one-touch connection fast mode and direct access to playlist library via Bluetooth

The Product is Highly recommended to traveller, office, and sports

Best Features

 
Unique Functionality,
Battery Life,
Style,
Premium Design,
Performance

Yes

,

 
I recommend this product.

Bought this because i want flexibilty when working and listening to music at the same time. Great battery life, great sound quality, great design, doesn't stand out too much, incredible touch panel with extra features. Easily engrossed in the music playing even when the music is on, gives a surround feeling with the ambient mode on when you're doing stuffs.
Ambient mode on will have some hissing and humming, pretty sensitive to highs when it is on. Gets quite annoying when there is no music playing. Really appreciate it if they would update the Buds+ with multiconnection.

Best Features

 
Unique Functionality,
Battery Life,
Premium Design

Yes

,

 
I recommend this product.

Improvement by all means from its predecessor

Battery life is improved, sound quality is improved(Though the dynamic sound range is still poor), laterncy is improved, the bluetooth connect stability is also improved.

However, a glitch was found that after taking out the buds+ from ears for a while then put it back to ears, the touchpad of the right buds+ is not response at all(But still makes sound). Hoping Samsung will solve that.

Best Features

 
Unique Functionality,
Battery Life,
Performance

Yes

,

 
I recommend this product.

Great Sound Quality & Freaking comfortable

By slightly tunes of the setting. The Samsung Galaxy Buds+ sound output is brilliant with great bass. If you prefer bass, should change it to Bass Boost.

The touch control is very responding, also it is superb light and comfortable. Love it have function to use Ambient sound during calls. This is very useful as I cannot stand can't heard anything during answering call, this functions is thumbs up. Design also very awesome, it is not protruding out.
Interchangeable strap

Daily wellness manager